It's been almost 50 years since Charles "Charlie" Husar graduated from the University of Maryland with his bachelor's degree in physics in 1971. And for him, now is the perfect time to give something back—to the university and to students who follow an academic path similar to his own.
Husar donated $515,000 to establish the Charles T. Husar Endowment for Physics, which will provide fellowships and summer research and travel awards for physics students. The inaugural awards will be given in January, 2021.
For Husar, who paid his own way through college—starting as an assembler at a local electronics company—it just felt like the right thing to do.
"I don't have any kids and I was thinking about something I could do that would be useful," Husar explained. "I like to help those who are trying to help themselves. This is part of my rationale for the UMD endowment in a tough discipline. I like the idea of helping someone along the way."
And, if that's a student whose background is similar to his own, he'd like that, too.
"I would say my background is a little unusual," Husar said. "I think I didn't recognize at the time how different it was."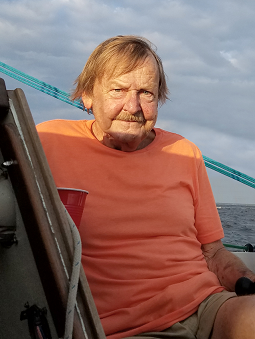 Charlie Husar
Husar was born in Czechoslovakia just after World War II.
"My mother was born and raised in Poland. My father was a colonel in the Czech army who spent the war in a German labor camp. He was assigned to the Czech Embassy in the USA after the war," Husar said. "So, my mother had to bring my 1-1/2-year-old sister and me at 4 months to America herself. My family skipped out from the embassy and hid out for a while in Virginia when the communists took over Czechoslovakia. Long story short, I consider myself very fortunate."
By the time Husar finished high school, he was living in College Park, just a few miles from UMD. With his academic interests, attending Maryland seemed like the obvious choice.
"I've always had a strong interest in science and how things work, and my enjoyment comes from building things and doing things," Husar said. "Chemistry didn't impress me, biology looked pretty messy and physics was the hardest thing they had, so I said I'll study physics. It's a great process, how to think about a problem and find a solution. I found it pretty challenging and I found the thought process neat and I found myself anxious to apply it all over the place in my engineering career and elsewhere."
Even in music.
"Did I mention that I also played guitar in rock bands while going to school and working?" Husar asked. "I just didn't sleep much in my school days."
Husar's love for science and problem-solving and music carried him through college and beyond. For years after graduation, he worked as a design engineer for the same electronics company where he worked to pay for college. Then, after a recommendation from a friend, he joined the consulting firm Booz Allen Hamilton, where he worked for 35 years as a secure communications engineer until his retirement six years ago.
During most of his professional career, Husar was also pursuing what continues to be one of his greatest passions away from work: sailboat racing. After his first sailing trip in the early '70s, he was hooked and soon began rebuilding boats and competing with his own 25-footer—which he named "Chicken Little."
"Ever since 1980, I've been racing my own sailboat," Husar said. "I still have it and a couple other sailboats, too."
For the problem-solver in Husar, the challenges of sailing were a perfect fit.
"Learning how to sail a boat well, to manage the wind and handle the seas, is a really complex thing," Husar said. "In terms of learning how you maximize your use of the wind with the sails, it's how you handle the lines and do the tricks, and how you better set up the boat to do what you're trying to do."
Husar, who's been called the "Godfather of the Cal 25 Fleet," spends hundreds of hours a year supporting the sport of sailboat racing—heading up the Annapolis Cal 25 owners' group, keeping season-long scores for eight different racing fleets, and volunteering at the Annapolis Maritime Museum.
Now in his 70s, Husar still sails and still plays music, sitting in for the occasional gig now and then. And he hasn't stopped learning. Husar found a niche on the website Quora, providing answers to a wide range of complex technical questions—from "What is a simple but detailed explanation of logic gates?" to "Why does a thermocouple record a high value of temperature?"
"I am an answerer on Quora," Husar explained. "I find some of the questions intriguing, and I further find that I sometimes need to do research to come up with a proper and accurate answer. In this way, I find answering the questions to be more educational than asking them."
From answering online questions to running sailing events to creating the endowment for physics students at UMD, Husar finds a special satisfaction in doing good things for others. He hopes his donation will make a difference for students who appreciate the challenges of physics and problem-solving, just as he did as a student—and still does 50 years later.
"Whether it's the volunteerism thing or this new endowment, I'm really pleased when I can help somebody out, it feels good to do it," Husar said. "I guess that is what I enjoy in life—making a difference."
Written by Leslie Miller