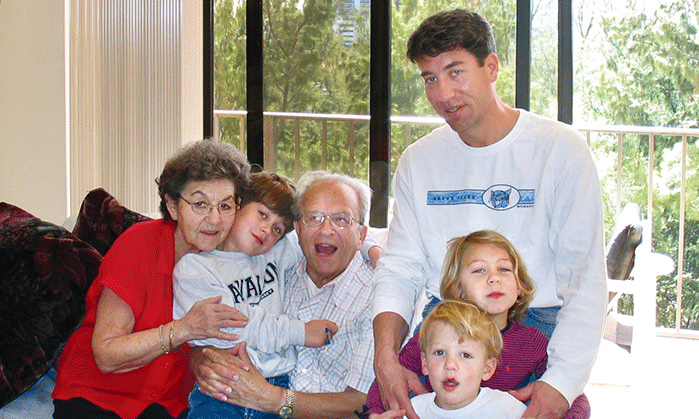 When Howard Milchberg, his wife, Rena, and their three children established an endowed lecture series in honor of Howard's late parents, they wanted something that would honor their spirit—a spirit that helped them survive the Holocaust, he by selling cigarettes to Nazis in occupied Warsaw while smuggling weapons to resistance fighters, and she in a slave labor camp in Siberia.
The professor of physics and electrical and computer engineering hopes that the Irving and Renee Milchberg Endowed Lectureship will carry on the legacy of his parents, both witnesses to and victims of a historical moment in which truth and reality became twisted. The annual cross-disciplinary lecture, housed in the Department of Physics but intersecting with schools across campus, will aim to highlight the connections among science, truth, the human condition and a civil society.
"Physics has brought material benefits to society but it has come with enormous consequences and responsibilities that demand a continuous and vigorous commitment to truth telling, facts and tolerance," says Milchberg. "In modern times, scientists themselves have frequently been in the vanguard of peace and human rights movements."
The lectureship, to which the Milchbergs have given $100,000, "will be an exciting addition to the Physics Department's calendar of colloquia and lectures," says Steven Rolston, chair of the department. "Its focus beyond physics to the wider world will provide valuable exposure to the big issues facing our society to our students, staff and faculty. We do not do science in isolation, and this will emphasize that."
Milchberg's mother and father, who died in 2017 and 2014, respectively, never had formal educations but Milchberg describes them as "remarkably open-minded and tolerant" and as "wide-ranging thinkers and skeptics." After immigrating to Canada in 1947, Irving Milchberg trained as a watchmaker, eventually meeting Renee and opening a gift shop in Niagara Falls, Ontario.
"I didn't want their passing to be unrecognized," says Milchberg. "The fact that I'm here doing what I do is a testimony to how they lived their lives."
Written by Sala Levin
Irving and Renee Milchberg Endowed Lecture Speakers:
2023: Jonathan Moreno, University of Pennsylvania, "Bioethics and the Rules-Based International Order" Tuesday, April 4, 4 p.m. in 1410 Toll. Refreshments will be served at 3:30 p.m.
2021: James Glanz, reporter for the New York Times, "The Public Relations Machine in Science: A Self-Inflicted Wound?"
2019: Susan Eisenhower, President and CEO of the Eisenhower Institute, "Lessons from 1945: Ethics, the War in Europe, and its Enduring Legacy."