For some graduate students, being a teaching assistant is seen as a bit of a chore.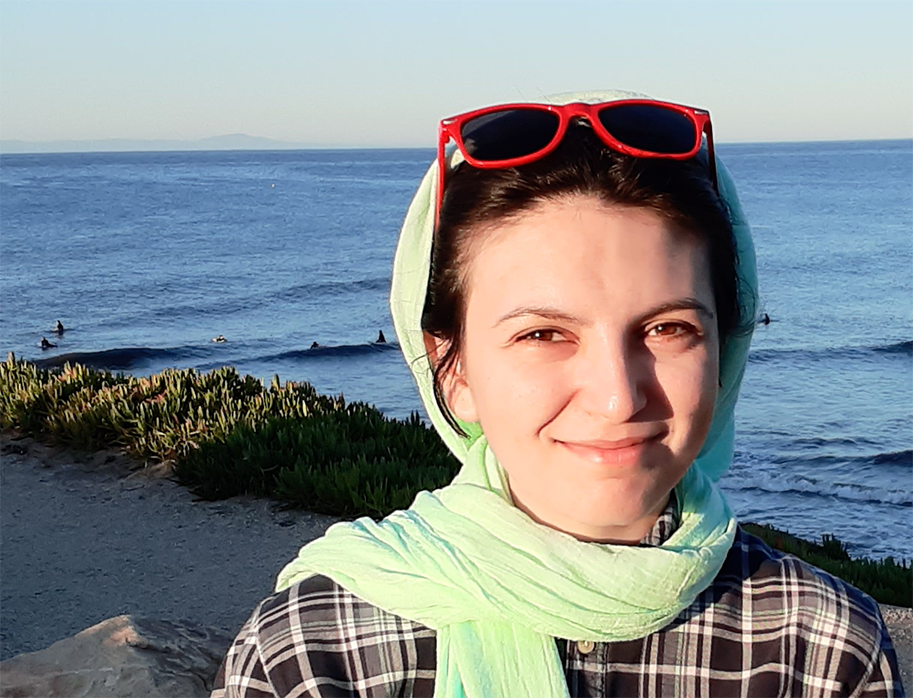 Batoul Banihashemi Teaching classes and grading assignments can take time away from the research they enrolled in the program to do. But for Batoul Banihashemi, the opportunity to teach has been a highlight.
"Usually teaching is looked at as an extra thing that grad students are required to do, or they have to do it because they couldn't find a research position, but it has been very fruitful for me," she said.
Banihashemi, a physics Ph.D. student at the University of Maryland, understands the importance of being a great teacher, because the teachers in her own life inspired her to take on the challenge of studying physics.
"I first became interested in physics when I was in high school and first learned about electromagnetic fields. A great teacher that I had did a great job at conveying the beauty of it to me, and I was fascinated by the concept," she said. "Once I began my undergraduate studies, I became especially interested in theoretical physics, Einstein's general theory of relativity and the topic of gravity. My professors did a great job teaching the subject, which made me excited to pursue a career in it. I should also emphasize the role of my parents in encouraging me to pursue science and making me very fond of books since my early childhood."
Banihashemi, who is in the fifth year of her Ph.D., received her bachelor's and master's degrees in physics from the University of Tehran in Iran, her home country. She was attending a conference in Tehran in 2015 when a speaker mentioned a research group studying fundamental physics at the University of Maryland.
"I was applying to different universities at that time and the presentation led me to consider Maryland," she said. "Once I researched the university online, I was like, 'Oh my God, this is one of the best places that I can go.'"
While researching UMD, she came across the work of Distinguished University Professor of Physics Theodore Jacobson. His research on gravitational theory was just what Banihashemi was interested in studying.
"I am very grateful to work with Professor Jacobson, who is a renowned and distinguished physicist in the field of quantum gravity," she said. "I was always interested in knowing about black holes and other cosmological systems that can be found as solutions to the Einstein equations, and Jacobson's work is focused on these exciting subjects."
Since beginning her studies at Maryland, Banihashemi co-authored a paper in the journal Physical Review D on gravitomagnetic tidal effects in gravitational waves from neutron star binaries, and she is working on another paper with Jacobson that she hopes will be published soon.
And though Banihashemi has seen success in her research, being a TA has been just as fulfilling for her.
"I really enjoy teaching because I love interacting with the students and helping them see the beauty in physics that I see," she said. "And I know that if I can't explain a topic to someone else, then it means I haven't learned it well enough myself. So it has been helpful in that regard as well."
Banihashemi's teaching skills shine through in the classroom, earning her multiple accolades. She won the Graduate School's Outstanding Graduate Assistant Award in 2018, which honors the top 2% of campus graduate assistants. She also won the Ralph Myers & Friends of Physics Award in 2018, 2019 and 2020, which is given annually to support outstanding graduate teaching assistants in physics.
"I'm very thankful to have been nominated for these awards, and I appreciate all the opportunities that I've been granted to serve as a TA," she said. "My experience in this area is going to help me in my future career, too."
Once she graduates from Maryland with her Ph.D., Banihashemi plans to do a postdoctoral research fellowship, hopefully in the U.S., and then eventually work in academia.
"My dream job is to become a professor," she said. "I'd like to continue to do research and teach, and I'm glad to have experienced both during my time at Maryland."
Written by Chelsea Torres