The Department of Physics received high ratings in the U.S. News & World Report's 2024 Best Graduate Schools lists released on April 25. .Eleven programs and specialties in the University of Maryland's College of Computer, Mathematical, and Natural Sciences (CMNS) earned top-25 accolades.
The college's graduate rankings are: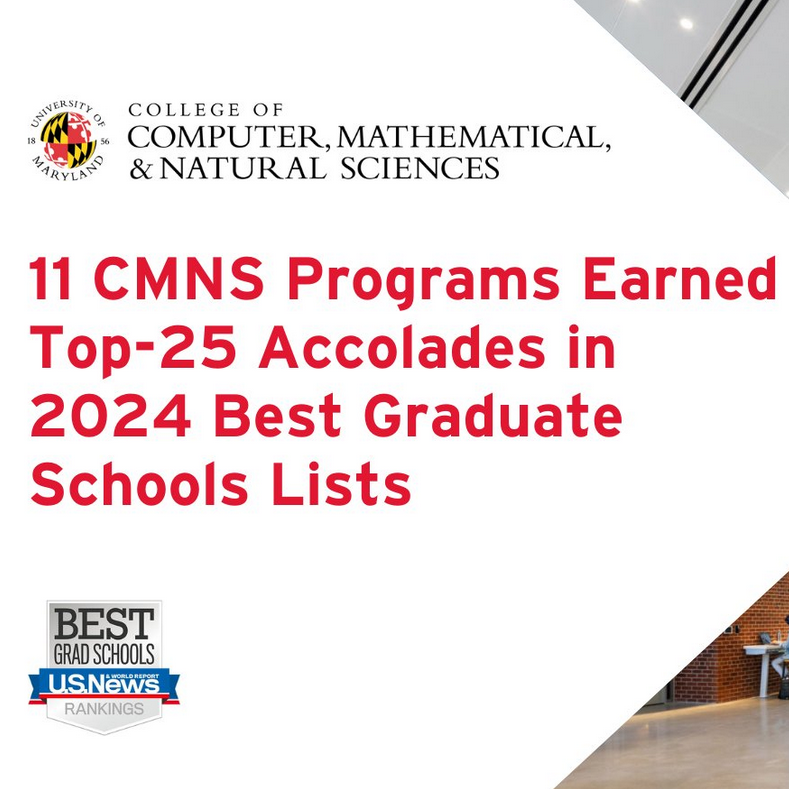 US News Best Grad Schools
Physics at No. 17 (No. 6 among public institutions)

Atomic/molecular/optical specialty at No. 6
Quantum specialty at No. 9
Condensed matter specialty at No. 17

Computer Science at No. 17 (No. 10 among public institutions)

Artificial intelligence specialty at No. 15
Programming language specialty at No. 20
Systems specialty at No. 22

Mathematics at No. 20 (No. 6 among public institutions)

Applied math specialty at No. 15
Analysis specialty at No. 24

Earth Sciences at No. 27 (No. 16 among public institutions)
Chemistry at No. 46 (No. 27 among public institutions)
Biological Sciences at No. 68 (was not surveyed this year)
For a full account of the University's rankings: https://today.umd.edu/umd-graduate-programs-ranked-highly-by-u-s-news
The rankings are based on statistical surveys of more than 2,200 programs and reputation surveys sent to nearly 19,000 academics and professionals, conducted in fall 2022 and early 2023. U.S. News said this year that it placed a greater emphasis this year on outcomes, recognizing that students' ultimate goal in attending graduate school is likely to become a practicing professional.