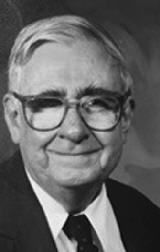 Carroll Alley Professor Carroll O. Alley, who retired in 2008 after a remarkable career at the University of Maryland Department of Physics, died on Feb 24, 2016.
A memorial service was held on June10 in the Garden Chapel on campus. (Remarks from the service are available, here.)
Carroll was a 1948 graduate in electrical engineering and physics at the University of Richmond, before beginning graduate studies at Princeton. He received an MA in 1952, and rejoined Richmond to teach physics. In 1954 he returned to Princeton, and secured his PhD in 1962. He was a student of Robert Dicke, with a thesis on optically pumped rubidium atomic clocks, studying the ground state hyperfine transition.
He began his research in laser physics at the Institute of Optics and Physics Department of the University of Rochester, and was then recruited by John Toll to join the University of Maryland in 1963.
Carroll was intensely active in the field of experimental gravitation and played a role in the commissioning of GPS by contributing to the calculations of how to correct for time dilation in gravitational fields. He was the Principal Investigator on Lunar Laser Ranging Retroreflector experiment that was placed on the moon in 1969 by NASA's Apollo 11 crew.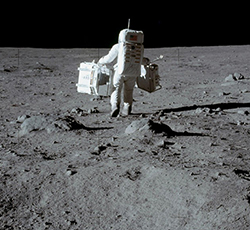 Buzz Aldrin from the Apollo 11 mission in July 1969 carrying Carroll's retroreflector on the moon (right hand has the reflector, left hand has a seismometer).
From Carroll's experiment, the distance from a point on the surface of the earth (we believe it was the MacDonald Observatory in Texas) to the reflector on the moon was measured with ~3 cm accuracy. From that experiment, he had to understand quantum measurements of single photons, and this led him to the field of quantum optics. (Note: a typical laser at that time had a diameter of about 7 km when it reached the moon, and 20 km when it reached the earth. Each laser pulse returned with [on average] less than 1 photon, requiring several hours to make a measurement. The accuracy was in the .1 ppm range.)
In his last few years on the UMD faculty, he sent optical signals on closed paths to measure possible relativistic deviations due to rotations, and he pursued alternatives to GR and standard solutions to the field equations.
Carroll was a truly dedicated educator. He played a pivotal role in building our lecture demonstration facility and innovative lecture halls. The design, with a rotating stage and back area for setup, has been copied countless times since being built in the late 1960s. He pushed for the retractable wall and large rear projection screens, showing a remarkable persistence that characterized his approach to physics.
The picture below shows the department around 1976. All people are listed left to right, the number lists the rows and row 1 is in the front. Carroll is in the first row 3rd from the left: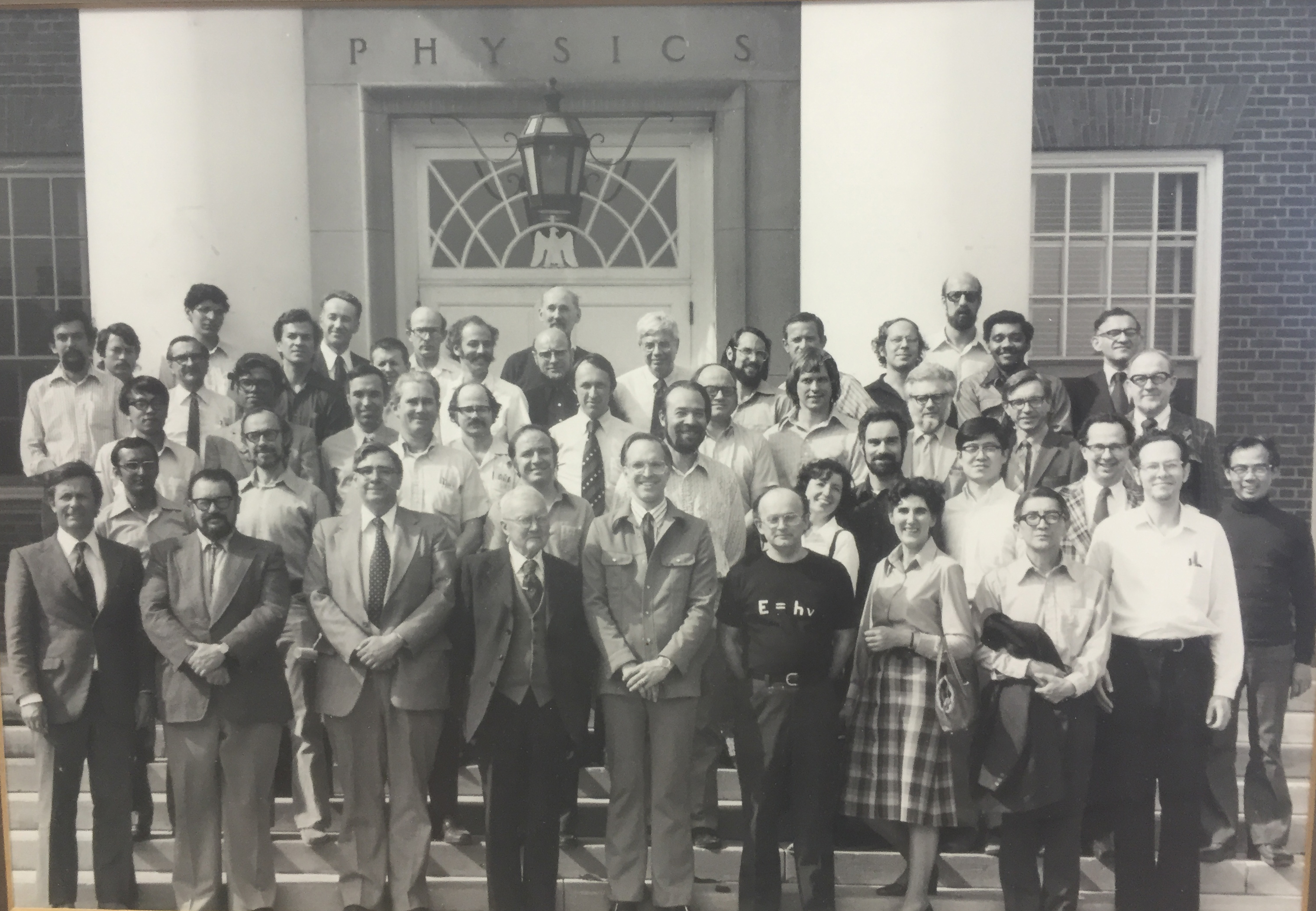 1.Hans Griem, Bill Hornyak, Carroll Alley, Ernst Opik, Alex Dragt (Chair), Joe Sucher, Bice Zorn, Sadao Oneda, John Gilroy 2.Amitabha Bagchi, Arnie Glick, Alvin Trivelpiece, Angelo Bardasis, Richard Prange, Paulette Liewer, Dennis Drew, Madoka Tokumoto, Bob Glasser 3. Kuo-ho Yang, T. N. Padekl, Dieter Brill, Dave Falk, Charlie Misner, Bill Rose, Gene McClellan, George Snow, Larry Krisher, Gus Zorn 4.Yehuda Alexander, Ralph Myers, Ron Davidson, Bob Anderson, Claude Kacser, Jan Sengers, Herb Lashinksy, Ted Einstein, Bob Park, Richard Sohn, Milton Slaughter, Phil Steinberg 5. Steve Detwiler, Bahram Mashhoon, I Bialwicki-Birula, Wally Greenberg, Rolfe Glover, S. Buchner
He received the NASA Exceptional Scientific Achievement Award in 1973 for leadership in the Apollo 11 Laser Ranging Retroreflector Experiment, and an Honorary Degree of Doctor of Science at the University of Richmond in 1978. For its 1976 Bicentennial Exhibit, the Maryland Academy of Sciences named Carroll Alley one of two outstanding scientists of the 20th Century.
As part of its Oral History Interviews series, the American Institute of Physics interviewed Carroll about his career in 2006; he discussed, among other topics, the influence of Princeton's Eugene Wigner and John Wheeler on his career. The transcript is available at the link below:
https://www.aip.org/history-programs/niels-bohr-library/oral-histories/30249