Professor Daniel Lathrop, geology Associate Professor Vedran Lekić and doctoral student Heidi Myers were honored with the Info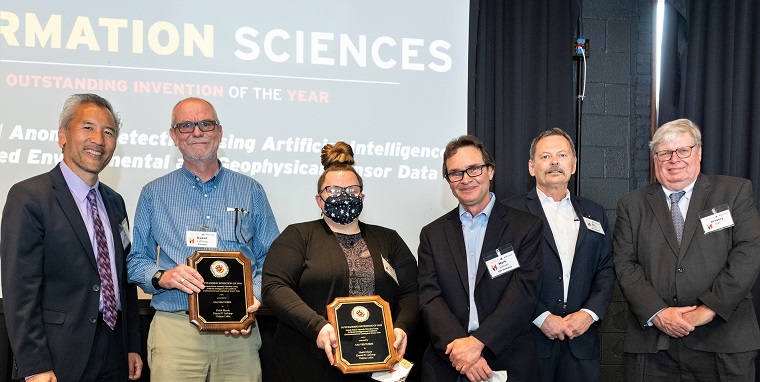 Dean Chang, Dan Lathrop, Heidi Myers, Mark Sullivan, Ken Porter and Greg Ball. Photo by Sage Levy.rmation Sciences Invention of the Year award at an at Innovate Maryland ceremony on May 3, 2022.
The Invention of the Year Awards have celebrated innovative campus research since 1987. In that time, 108 inventions have been awarded the high distinction, selected for their technical merit, improvements to existing technology, commercial potential and overall benefit to society.
Beginning in 2016, the Innovate Maryland platform was established to form a series of programs bringing together various departments at the University of Maryland supporting innovation and entrepreneurship.
Lathrop, Lekić and Myers are combining a variety of sensors with geomapping as a means of finding the estimated 100 million unexploded landmines and other explosive dangers that continue to plague conflict zones long after overt hostilities have ceased. Their work is further described here: https://today.umd.edu/at-innovate-maryland-pines-heralds-turning-expertise-into-actions