Sylvie Ryckebusch (B.S. '87, physics; B.S. '87, mathematics) has never underestimated the value—or the challenges—of earning a physics degree.
"I think physics is the hardest subject really," she explained. "It trains your problem-solving skills, the way you think and learning to work on difficult things. When you've spent years studying physics, I think it trains you well for many other lines of work."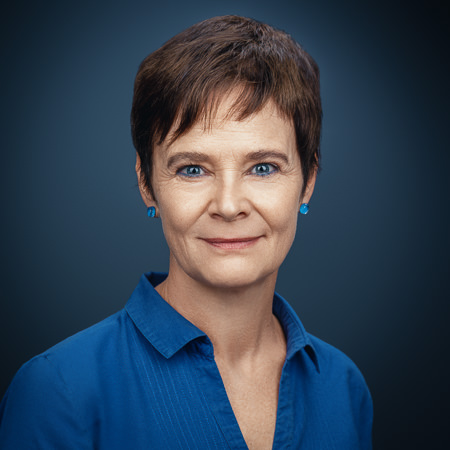 Sylvie Ryckebusch
Ryckebusch applied these skills on a rewarding academic and professional path that took her from the research lab to the business world, and from the U.S. to Europe and beyond. Over the past 20 years, she built an impressive track record leading business development for biotech and pharmaceutical companies, negotiating complex research collaborations and licensing transactions, and specializing in everything from partnerships and corporate strategy to helping bring new therapeutics to market.
Today, as chief business officer at BioInvent International in Lund, Sweden, Ryckebusch supports the company's efforts to develop new antibody drugs for the treatment of cancer. And though she didn't exactly plan it this way, she's exactly where she wants to be.
"People always ask me, 'How did you organize your career to end up in business development?' because that's a place where a lot of people want to be—in the pharma industry, and most particularly, in business development" she said. "Honestly it was mostly happenstance. One thing led to another and another and I ended up here, although what was important in making these career choices was the self-awareness along the way about what kind of work and environment I enjoyed."
European roots and a strong work ethic
Growing up in Howard County, Maryland, Ryckebusch always felt a strong connection to her European roots. Her parents immigrated to the U.S. from France before she was born.
"My mother was a secretary at the World Bank and my father was a chef," she explained. "He grew up during the war in very difficult times in northern France and had to be pulled out of school early to help support the family, so he became an apprentice in a restaurant. When I was growing up, he was working around the Washington area as a chef and had his own restaurant for a time in Ellicott City."
With many of her relatives still living in France, Ryckebusch decided to spend her high school years there. Fluent in French, she was interested in many subjects, but her teachers pushed her to pursue her strengths in mathematics.
"If you're good at science, people aren't going to tell you that you should study English literature," Ryckebusch said. "I was always good at math and science and in the schools in France, if you're good in math they tell you that's what you've got to do, they push you."
Ryckebusch returned to the U.S. after high school and began college at the University of Maryland in 1983, taking on the challenges of a double degree in mathematics and physics. Raised with a strong work ethic, she was driven to keep doing more.
"I made it really hard for myself," she admitted. "I skipped the first-year courses, which I probably shouldn't have done and I did a double-degree program, which would have been a five-year program, but I did it in four years. So, what I remember most from my UMD time is working really hard."
In those intense academic years, Ryckebusch spent her summers working with a low-temperature physics group at Bell Labs. After graduating from UMD in 1987, she moved on to a Ph.D. program in computation and neural systems at Caltech.
"My focus was understanding the control of locomotion by the neural system," she explained. "I was, on the one side, building integrated circuits, transistors and capacitors, the circuits that modeled certain behaviors of neurons in the brain, and in parallel, I was doing actual experiments to identify neuronal circuits involved in locomotor functions."
After earning her Ph.D. in 1994, and a postdoctoral fellowship at Brandeis University, Ryckebusch was ready for something new.
"I had to weigh doing academic science for a career or at least the next six or seven years or starting something different, and I thought, I want a change," she explained. "I like variety and I wanted to be in the real world, though I wasn't really sure what the real world was."
Encouraged by a friend, Ryckebusch joined the Harvard Business School as a postdoctoral researcher. There, she investigated business operations, developing case studies on companies all over the world, some of which are still taught at HBS today.
"I went to Japan, to Israel, all over the place, exploring particular issues related to businesses and the organization of their work and writing these up in case studies," she recalled. "It was different and it was fun, and I fell into it very easily."
From case studies to consulting
In 1996, Ryckebusch's academic background, business research at Harvard and fluency in French helped her land a management consulting position at the Paris office of global consultants McKinsey & Company. The experience helped strengthen her skill set in corporate strategy and business development, but after four years, she realized she missed working with scientists and the intricacies of scientific problem-solving.
"I thought this has been fun and I learned so much, but it was very hard work and not really who I was" Ryckebusch explained. "I wanted to get back into a career closer to science."
Hoping to apply her experience in both science and business, Ryckebusch joined Serono, a large Geneva, Switzerland-based biotech firm. She quickly realized it was the right place at the right time.
"I ended up in the very best possible place for me and I loved it," she recalled. "You're negotiating partnerships and alliances—pharma-pharma, pharma-biotech, biotech-academia alliances—and you have to have a good grasp of the science because you're working on drug development. It was a business role that I'm still doing today over 20 years later."
Pharmaceutical giant Merck eventually acquired Serono and shut down its Geneva office, but by then Ryckebusch had three kids in school and didn't want to uproot her family. So, in 2012, she started her own consulting business. Based in Geneva, she worked with pharma and biotech clients, even finding time to teach a graduate-level pharmaceutical business development course at the Grenoble Ecole de Management.
Then in early 2020, one of Ryckebusch's clients, BioInvent, suggested that she join them full time as chief business officer.
"BioInvent is a super company, with very high quality science and promising therapeutic drug candidates. I was doing more and more work with them, and they said, 'Why don't you join us,' and it just made sense," Ryckebusch recalled. "So that's what I'm doing now."
Part of a bigger mission
As BioInvent's chief business officer, Ryckebusch works remotely from her home in Geneva, leading business development efforts, building partnerships and research collaborations for drug development, as well as supporting the investor-backed company with financing and company strategy.
"It costs $800 or $900 million to develop a pharmaceutical product, so biotechs almost never take them to market on their own, you have to partner with a big pharma at some point," she explained. "There's a whole strategy around how you partner, when you partner and with whom."
Ryckebusch takes pride in her role as part of BioInvent's scientific work in cancer therapeutics. But she's quick to note that she's just one small part of a much bigger mission.
"I enjoy that feeling of collectively bringing something forward—we're all cogs in a wheel," she explained. "In the pharma industry, it takes 15 to 20 years to develop a drug and a lot of people like me contribute along the way."
For Ryckebusch, making that kind of contribution means everything.
"It's all about finding great drugs and developing them and pushing the frontiers of the science," she reflected. "I really hope one of BioInvent's products makes it to the market. I would be proud to be able to say a little bit of that came from me."