When Christopher Palmer was a physics graduate student at UC San Diego, he had to decide whether to specialize in supersymmetry or search for the Higgs boson.
Though there was no experimental evidence of the Higgs boson's existence at the time, Palmer was convinced that this elusive elementary particle—believed to be linked to a field that gave mass to everything in the universe—was somewhere out there.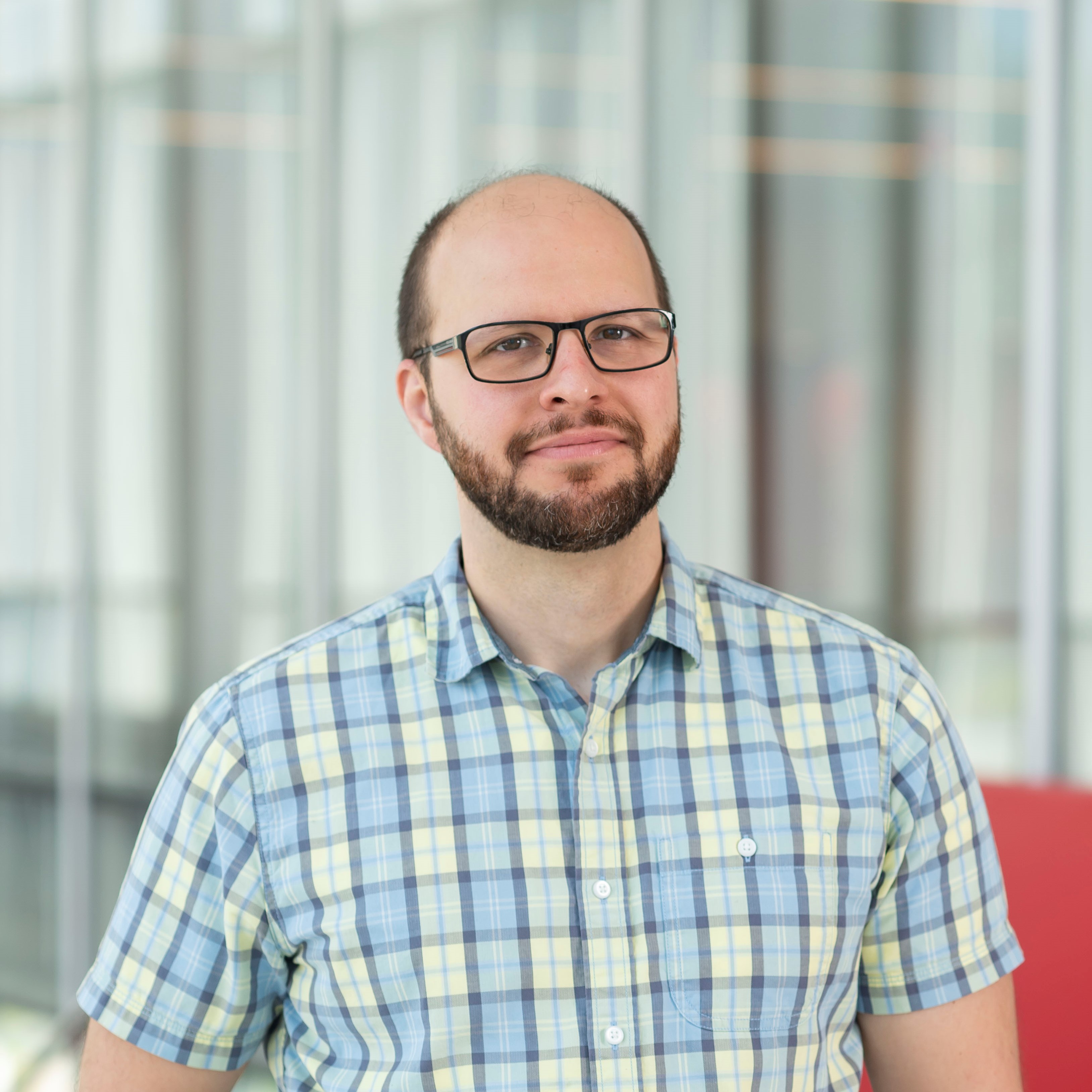 Chris Palmer

"The Higgs boson is such a cornerstone of a very well-established theory called electroweak theory," Palmer said. "It could be a lack of imagination on my part, but I could not imagine the Higgs boson not existing."

He trusted his gut and dedicated his studies to the Higgs, which set him on course to Switzerland to join one of the experiments at the Large Hadron Collider (LHC) beginning in 2010. Luck was on his side, and he ended up being part of the research group that recorded the highest number of Higgs bosons in their analyses, contributing to the particle's official discovery the following year.
He hasn't looked back since. In March 2021, Palmer became an assistant professor of physics at the University of Maryland, where he continues to study the Higgs in search of the next big discovery.
'Deeply weird' physics
Palmer's first academic love wasn't actually physics—it was math.

"I loved math in high school, so I thought, 'Yeah, I'll do math in college,' but that was sort of my 'hobby major'—and I'm glad it was because I ended up not enjoying mathematical proofs that much," he said with a laugh.

A fascination with what existed "beyond Earth" prompted Palmer to declare a second major in astronomy as an undergraduate student at USC. But it wasn't until he took an upper-level course in quantum mechanics—and became enamored with its mathematical intricacies—that he developed a deeper appreciation for physics.
"It was a new way to use many different aspects of math," Palmer said. "There's linear algebra and complex numbers. Taking these integrals and mixing all that up in a pot was really fun for me. But there was also some new physics that was deeply weird, and I couldn't get enough of it."

Palmer needed only one quantum mechanics course to meet the requirements of an astronomy major but enjoyed it so much that he took two. After graduating with a bachelor's degree in mathematics and astronomy in 2007, he took a short drive south to UC San Diego to continue his studies—this time as a Ph.D. student in physics.

Right place, right time
Once Palmer decided to search for the Higgs boson, he joined the Compact Muon Solenoid (CMS) experiment at the LHC. Palmer teamed up with a group that was looking for evidence of the Higgs boson's decay into two photons during proton-proton collisions.
This turned out to be a serendipitous assignment. His group ultimately saw an enormous excess of Higgs bosons in their analysis.
"At the time in 2011, no one else at CMS had actually seen much of anything in their data, and in my analysis there was the biggest excess of Higgs boson particles in any of CMS' searches," Palmer said. "The discovery was literally happening at my fingertips."
Palmer was so focused on the work that he didn't have time to get excited about the actual discovery of the Higgs boson, which was confirmed and publicized in 2012.
"There was a whole lot of double- and triple-checking everything in early 2012. I wasn't sleeping all that much," he said. "I got excited afterward."
With one major discovery under his belt, Palmer was hooked on Higgs. After earning his Ph.D. in 2014, he became a postdoctoral researcher at Princeton University, where he participated in luminosity experiments and studied the Higgs boson's decay to bottom quarks—the "most elusive decay" anyone had observed up to that point.
In 2021, Palmer joined UMD with plans to study signatures of the Higgs boson in greater detail and depth, while also having the flexibility to explore other research interests down the line.
"One of the things that I really love about this department is that there are so many different types of research that are represented by the faculty," Palmer said. "In 10 years, if I want to do something different, I don't know any place where it would be easier."
Continent-spanning research
Palmer continues to participate in LHC experiments, and much of his work can be done without ever leaving campus. He is part of a team that is studying a new CMS detector, called the MIP Timing Detector, that will more precisely measure charged particles. Because the CMS experiment will need to be operational at -30 degrees Celsius, Palmer and his team are building a cold box at UMD to test components of the detector under extreme conditions.

This research is funded by a Department of Energy grant, which also supports the work of Physics Professor Sarah Eno and Associate Professor Alberto Belloni. Though all three faculty members are involved in LHC experiments, Palmer said they each have their own interests and areas of expertise, which keeps things interesting.

"It's nice to see what other people are doing, and you don't always get that when you work in a group that has all the same physics interests," Palmer said. "It's also good for the students because they really get to see what is going on in vastly different corners of the experiment, which is important in a giant experiment like CMS that has 3,000-some people in it."
In addition to his research, Palmer works to make physics a more inclusive field and is currently exploring ways to improve student mentorship and support for students from historically underrepresented groups. He serves on the executive committee of the American Physical Society's Forum on Diversity & Inclusion, as well as the College of Computer, Mathematical, and Natural Sciences' Diversity & Inclusion Advisory Council. He is also the director of Pathway to Physics PhD (P3), a UMD fellowship program that offers fully funded physics degrees, with priority given to applicants from historically Black colleges and universities and minority-serving institutions.

Eye on the collider
When he's not busy with campus initiatives or teaching classes, Palmer keeps tabs on the data flowing out of the LHC. A monitor next to his office door displays numbers and charts showing the latest data from LHC experiments, including the luminosity measurements that Palmer specializes in.
"Most of the time I'm engaged in my classes and meetings and other things that I'm immediately involved with," Palmer said, "but I'm always keeping an eye on what's going on at the LHC out of the corner of my eye."

Palmer's research—and a touch of luck—brought him face-to-face with some of the biggest discoveries in physics. When the next uncharted phenomenon shows up in an experiment, Palmer doesn't want to miss it.
Written by Emily Nunez