On Saturday, December 10th, local elementary and middle school students participated in Physics Superspies, a Physics Discovery Day outreach event on Wav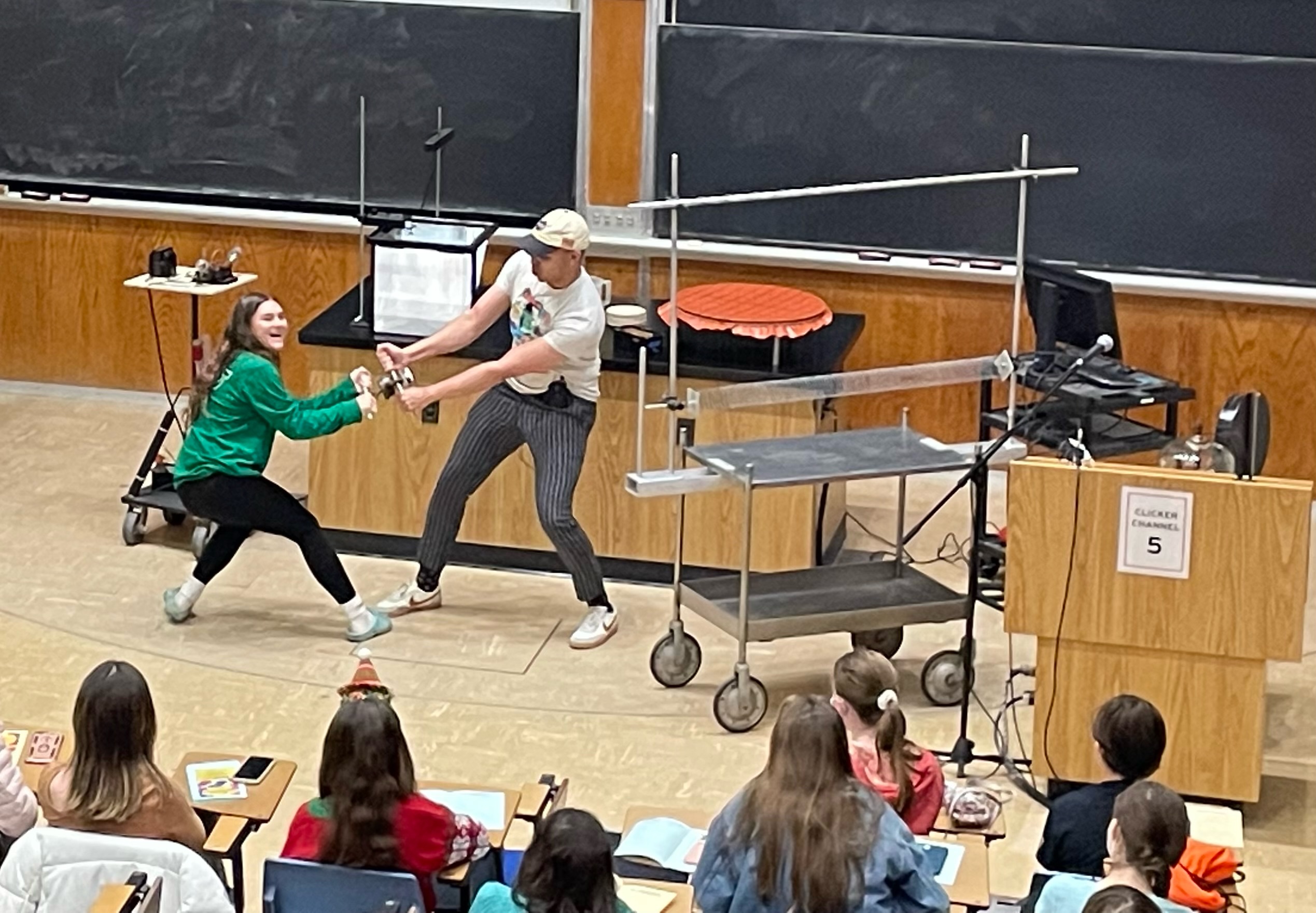 Audience participation! Angel Torres and audience volunteer demonstrating the power of an electromagnet.es and Satellites. Outreach Coordinator Angel Torres kicked off the program with a series of captivating demonstrations that had students energized! The demonstration show was designed to prepare students for a fun series of hands-on activities that further demonstrated the properties of the electromagnetic spectrum and how scientists use different wavelengths to study the universe. Thanks to the expertise of physics majors Jade LeShack, Lincoln Doney, Wenxi Wu, David Bour and Bergen Dahl, the attendees learned new concepts as they completed their Discovery Day physics passport at each activity station. Undergraduate volunteers were able to utilize their knowledge beyond the classroom to answer questions from inquisitive participants.
Attending parents enjoyed the program and were appreciative of the activities. One parent stated, "My son is a huge physics and math fan. He had a great day learni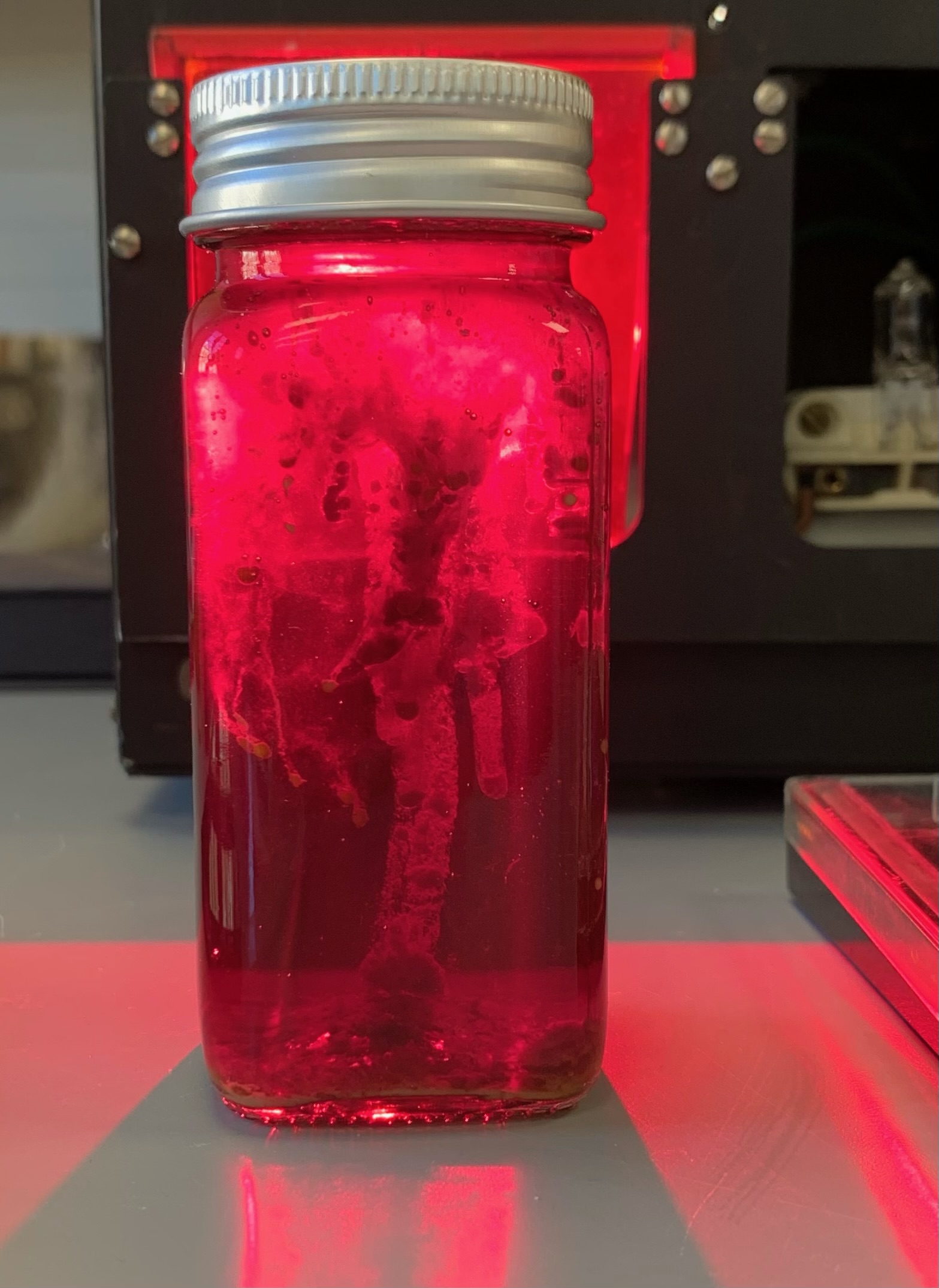 A miniature model of a galaxy in "infrared" light.ng through fun interactive demonstrations. Thanks for having such a cool event!" Activity stations included simulating the launch of a satellite into orbit using stomp rockets, creating waves across the visible spectrum with Slinkys, and understanding the effects of magnetic fields on satellites through iron filings and magnets.
This Discovery Days program was developed by Outreach Coordinator Angel Torres and Director of Education Donna Hammer. New to the program, a collection of "miniature galaxies" in bottles using colored Jell-O and tiny pieces of candy was developed by Torres. By using specific colored filters, attendees were able to reveal the galaxy inside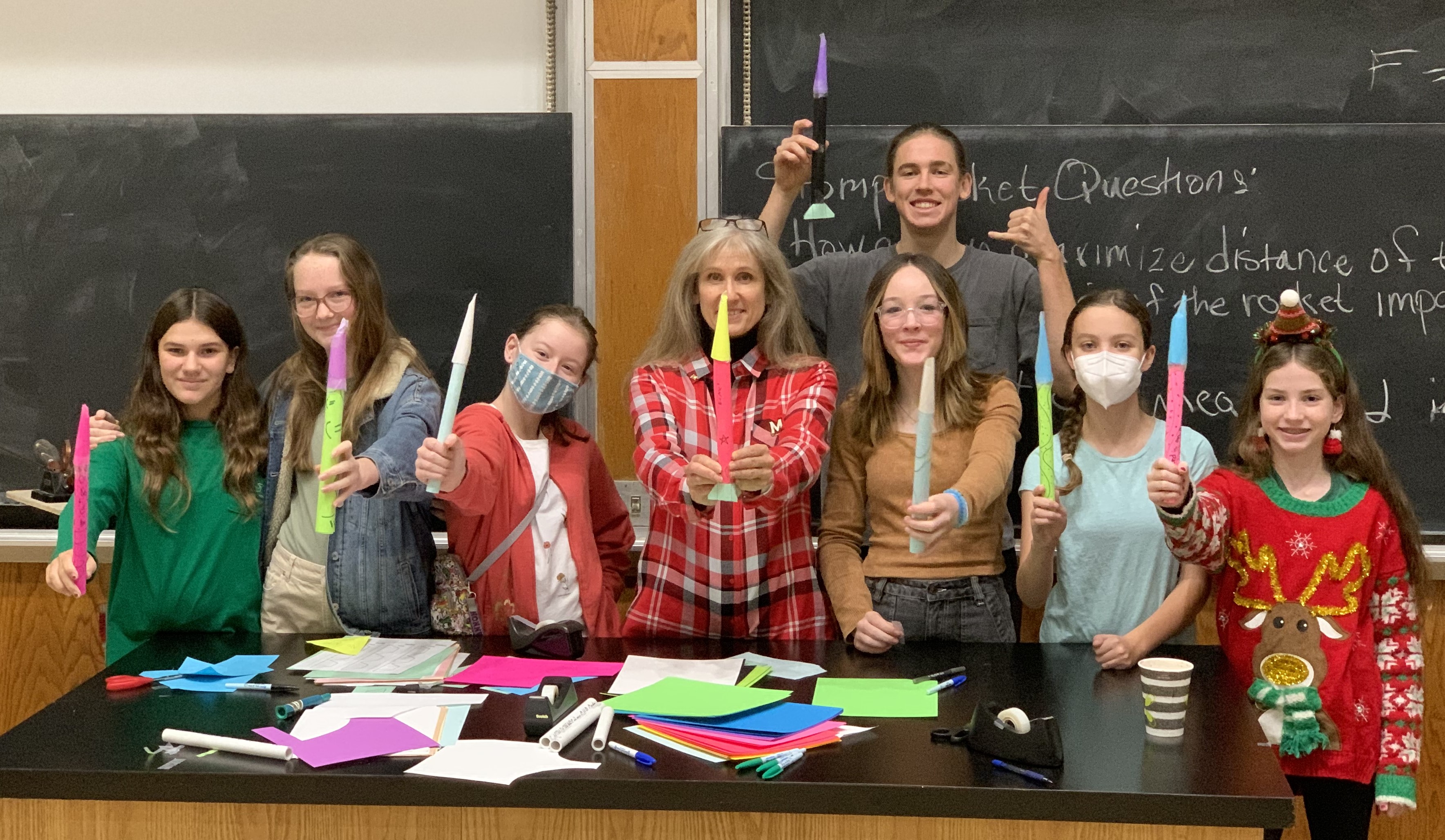 Time to Launch! Undergraduate Bergen Dahl, Donna Hammer, and attendees posing with their rockets.of an opaque bottle (universe). These galaxies allowed students to personally engage with using different wavelengths, through light filters, to see all the features of a galaxy. In order to demonstrate the curvature of spacetime, Hammer designed a model of personal spacetime hoops. Each participant was able to simulate satellites orbiting a celestial body using metal spheres and marbles. Students increased the number of "satellites" until they created a solar system.
The Physics Outreach Team is excited to host more events this Spring. Discovery Days are geared toward upper-elementary school students and are complemented by Physics is Phun for high school audiences. To stay informed on future Discovery Days and upcoming outreach events, visit our outreach page and join our mailing list.