The Standard Model of particle physics explains the most fundamental forces and particles in the universe with unprecedented precision. However, a recent announcement from the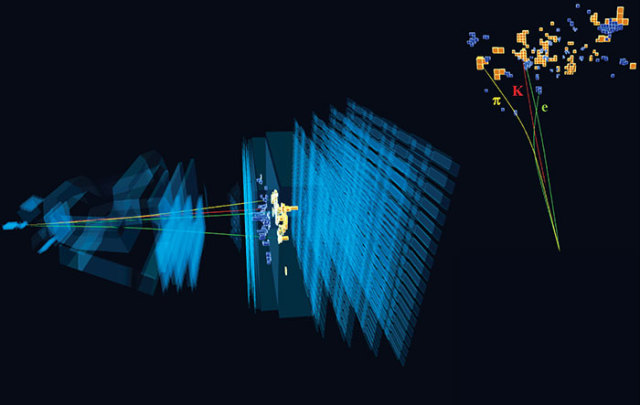 The decay of a B0 meson into a K*0 and an electron–positron pair in the LHCb detector, which is used for a sensitive test of lepton universality in the Standard Model. Credit: CERN Large Hadron Collider beauty (LHCb) experiment at CERN raises the tantalizing prospect of new physics beyond the Standard Model picture.
Scientists analyzed all the data collected by the LHCb detector over the last decade —trillions of collisions recorded during the experiment's first two runs. This cumulative study showed that beauty quarks are not decaying into equal numbers of muons and electrons when accompanied by a kaon, as the Standard Model would predict; electrons occur at a 15% higher frequency. If confirmed, this raises the captivating possibility that a particle or force not previously known could be involved and affecting the decays and leading to lepton universality violation. The significance of the effect is currently around three standard deviations, that is, less than 0.15% chance that it is simply a fluctuation.
Assistant Professor Manuel Franco Sevilla will present the new LHCb result in a plenary talk at the 2021 April APS meeting.
This is not the first time that LHCb data has shown such a discrepancy; in addition to earlier anomalies in similar beauty decays, a 2015 finding also hinted at a violation of lepton universality in decays involving muons and tauons, a study in which the UMD LHCb team played a leading role.
Scientists will proceed with caution before deciding that the newly announced finding contradicts the Standard Model, which has proven resilient for five decades. Even more precise data is expected from LHCb's Run 3, which will begin after a major detector upgrade is completed in 2022.
To learn more, see the CERN press release: https://home.cern/news/news/physics/intriguing-new-result-lhcb-experiment-cern
In the Guardian: https://www.theguardian.com/science/2021/mar/23/large-hadron-collider-scientists-particle-physics