As a child of immigrant parents, Jorge Ramirez learned very early on the importance of education. And not just any education—a U.S. education.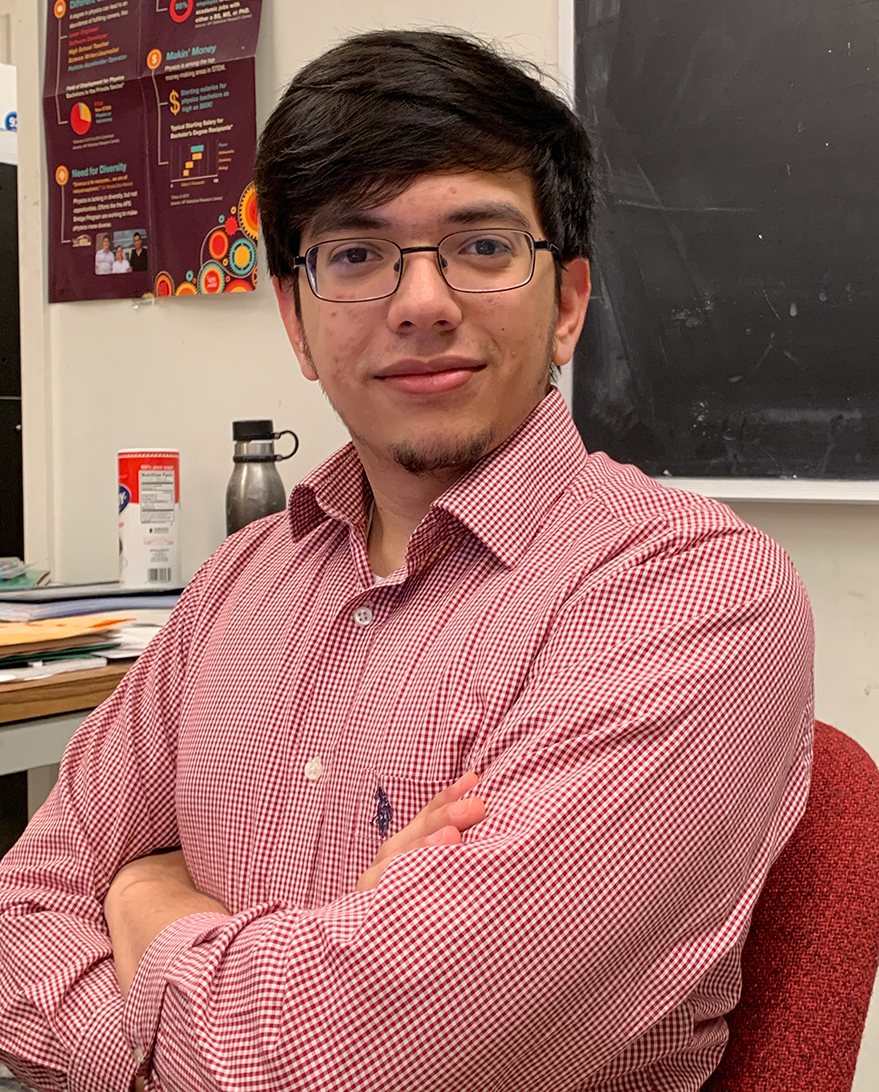 Jorge Ramirez Ortiz
"My family was heavily burdened by the economic crises happening in Honduras during the '90s, so my parents immigrated to the United States with my siblings and me," he shared. "My parents were illegal immigrants my entire life, so despite having college experience and a lot of skills, they were deemed not worthy in the U.S. Seeing my parents having to work menial labor jobs despite all of their skills made me dead set on getting a U.S. education."
Ramirez, a senior physics major at the University of Maryland, developed an interest in science at an early age. He participated in the Science Bowl—a weekly game show hosted by the Prince George's County Public Schools where students from different schools compete against each other to test their science IQ—for the first time when he was in fifth grade. In sixth grade, he competed again and won, which solidified his love for science. When he went to high school, he began to focus on physics.
"When I was a senior in high school, I was a part of an internship program where I met my current mentor, [UMD Physics Professor] Dan Lathrop," Ramirez said. "During that internship, I had my first research experience and I designed my own experiment where I identified the resonant modes of suspension bridge cables of a bridge near the Baltimore Harbor. It was my first experience in academia that helped me realize that I liked doing experimental design and data analysis."
Part of what Ramirez loves about physics is that it provides a foundation for so many things, and it is knowledge that he'll always be able to use in his day-to-day life.
"Physics is the foundation for everything, so if I ever have an interest in another field, I can build on my foundations of physics," he said. "Knowing physics means that I can learn anything else as long as I work with my roots. And if I ever end up in a situation like my parents where my degree isn't accepted, everything that I know about physics is real and I can assert that no matter what."
Helping others see themselves in the world of physics is one of the things Ramirez is most passionate about. That's why he's a member of the Department of Physics' Climate Committee, which launched last year to ensure that the department is welcoming to everyone, and why he serves as the president of the Society of Physics Students, which aims to help physics students and those interested in physics connect with one another.
He is also working on a very special multimedia project called Rostros Físicos, which is aimed directly at the Latinx community. Led by Daniel Serrano, who works in UMD's Institute for Research in Electronics and Applied Physics as a senior faculty specialist, the project is a video series that focuses on the experiences, backgrounds and expertise of Latinx physicists from all stages of the academic path.
"The point of Rostros Físicos is to create a platform in which Hispanic and Latinx-identifying physicists can not only give an example of their work and serve as role models, but also explore their backgrounds and their perceptions of physics, where they came from and how they got to where they are," Ramirez said. "We made Rostros Físicos to be a resource for the future generation to say, 'Okay, this person looks like me, sounds like me, has a similar upbringing to me, and is a successful physicist, so I think I can be one, too.'"
In January 2021, when the Department of Physics and the National Institute of Standards and Technology hosted the Conference for Undergraduate Underrepresented Minorities in Physics, Ramirez and Serrano had the opportunity to host a workshop and show video clips from Rostros Físicos. They engaged in a discussion about the videos and how the representation of Latinx physicist role models can impact the future of the field.
"The people at the workshop were jumping at the opportunity to discuss what they saw during the videos and tie it into what they learned during other panels at the conference about representation in physics," Ramirez said. "Everyone involved with the workshop was super happy with the feedback that we received and the impact that we had. I'm really glad we had the opportunity to be a part of it."
In the future, Ramirez and Serrano hope to expand Rostros Físicos into a database where people who are interested in Latinx physicists can easily look up all of the people in the project and learn more about them.
As far as Ramirez's personal future goes, inspiring other Latinx people to become physicists is at the center of his goals. He is currently applying to graduate schools to study quantum information and quantum computing, and he hopes to eventually become a professor.
"I want to be a professor because, frankly, there are not very many Latinx professors," he said. "I want the ability to inspire Latinx students by saying, 'I grew up in the exact same situation as you and now I'm a professor of physics, so you can do it too.'"
Written by Chelsea Torres